Note: we mentioned the project Dead Drops (2010), by artist Aram Bartholl, in the foundation document of our design research Inhabiting & Interfacing the Cloud(s). The project was about passive memory sticks (usb keys) that were inserted into public streets walls, for anybody to drop or pick files.
A. Bartholl recently published a new project, Keepalive, which also presents a public, situated (rural or into the wild) and almost ritual interaction with files.
Both projects are presented below in more details, but what interests us in these two cases is this different interaction with files that is proposed. Both physical and that brings a different meaning to the interaction itself: a special type of (situated) interaction to access specific files. Something quite different therefore than a general purpose type of interaction ("clic" with a mouse or "tap" with a finger) to access any type of files (current situation with cloud storage).
In the continuity of the workshop we held about physical bot objects that manipulate data, "Botcaves" - Networked Data Objects, this is certainly a track we'll like to pursue and digg into during the next steps of this project.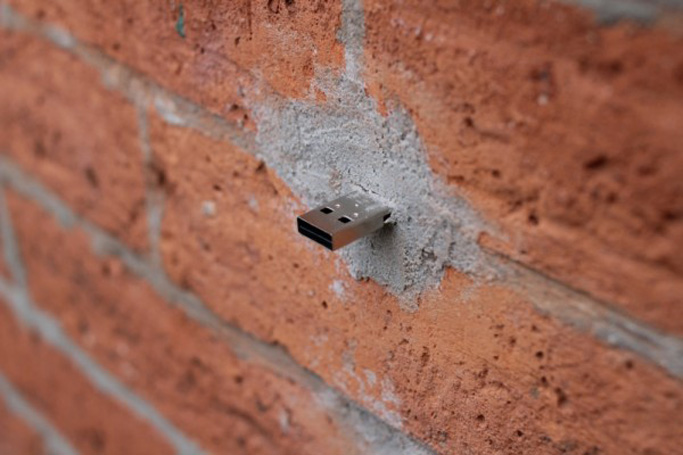 The Dead Drops Manifesto
Dead Drops is an anonymous, offline, peer to peer file-sharing network in public space. Anyone can access a Dead Drop and everyone may install a Dead Drop in their neighborhood/city. A Dead Drop must be public accessible. A Dead Drop inside closed buildings or private places with limited or temporary access is not a Dead Drop. A real Dead Drop mounts as  read and writeable mass storage drive without any custom software. Dead Drops don't need to be synced or connected to each other. Each Dead Drop is singular in its existence. A very beautiful Dead Drop shows only the metal sheath enclosed type-A USB plug and is cemented into walls.You would hardly notice it. Dead Drops don't need any cables or wireless technology. Your knees on the ground or a dirty jacket on the wall is what it takes share files offline. A Dead Drop is a naked piece of passively powered Universal Serial Bus technology embedded into the city, the only true public space. In an era of growing clouds and fancy new devices without access to local files we need to rethink the freedom and distribution of data. The Dead Drops movement is on its way for change!
Free your data to the public domain in cement! Make your own Dead Drop now! Un-cloud your files today!!!
Aram Bartholl 2010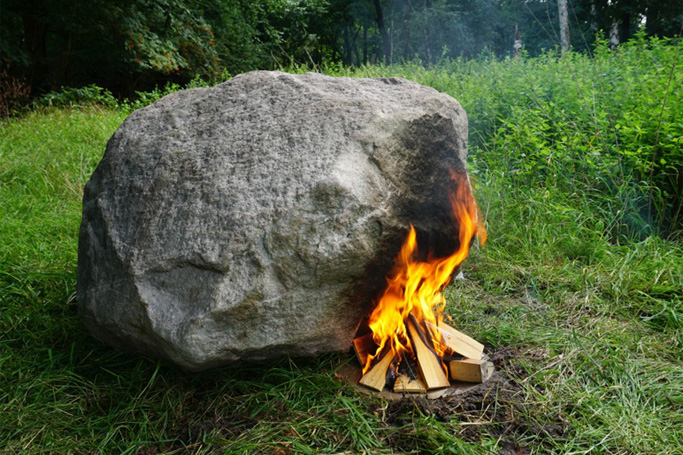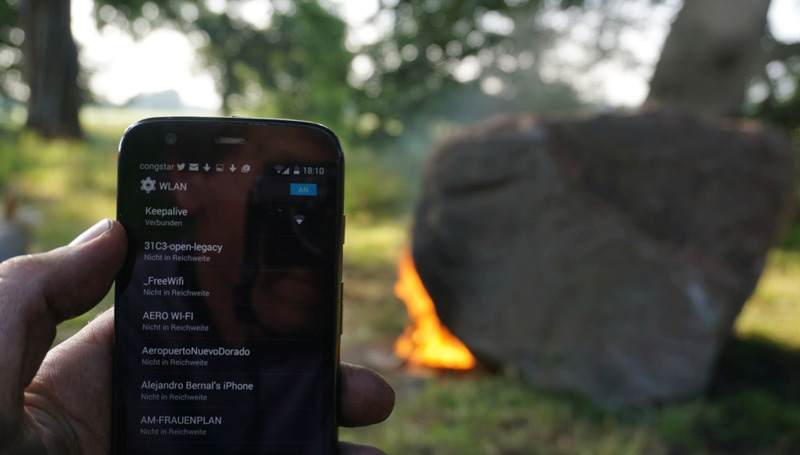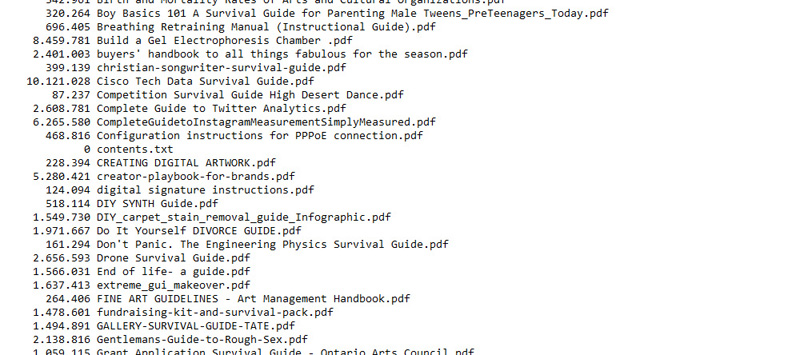 Keepalive
Sculpture, permanent outdoor installation
Aram Bartholl 2015
The boulder from the region Neuenkirchen, Niedersachsen contains a thermoelectric generator which converts heat directly into electricity. Visitors are invited to make a fire next to the boulder to power up the wifi router in the stone which then reveals a large collection of PDF survival guides. The piratebox.cc inspired router which is NOT connected to the Internet offers the users to download the guides and upload any content they like to the stone database. As long as the fire produces enough heat the router will stay switched on. The title Keepalive refers to a technical network condition where two network endpoints send each other 'empty' keepalive messages to maintain the connection.https://en.wikipedia.org/wiki/Keepalive To visit the piece please arrange an appointment with Springhornhof.de.
The project 'Keepalive' by Aram Bartholl was realised in the context of the research project 'Art and Civic Media', as part of the Innovation Incubator Lüneburg, a large EU project funded by the European Fund for Regional Development and the Germna State of Lower Saxony.