Note: we're pleased to see that the publication related to the exhibition and symposium Poetics & Politics of Data, curated by Sabine Himmelsbach at the H3K in Basel, has been released later this summer. The publication, with the same title as the exhibition, was first distributed in the context of the conference Data Traces. Big Data in the Context of Culture and Society that also took place at H3K on the 3rd andf 4th of July. 
The book contains texts by Nicolas Nova (Me, My cloud and I) and myself (Inhabiting and Interfacing the Cloud(s). An ongoing Design Research), but also and mainly contributions by speakers of the conference (which include the american theorician Lev Manovitch, curator Sabine Himmelsbach and Prof. researcher from HGK Basel Claudia Mareis) and exhibiting artists (Moniker, Aram Bartholl, Rafael Lozano-Hemmer, Jennifer Lyn Morone, etc.)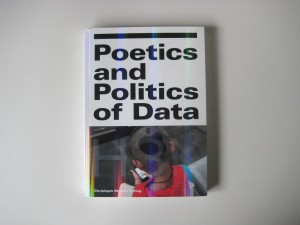 The book serves both as the catalogue of the exhibition and the conference proceedings. Due to its close relation to our subject of research (the book speaks about data, we're interested in the infrastructure –both physical and digital– that host them), we're integrating the book to our list of relevant books. The article A short history of Clouds, by Orit Halpern is obviously of direct signifiance to our work.
Whether using Internet-based installations or graphic data visualisations, these artists question the relevance and place of the individual in a technologically wired society in which each of us generates a nearly incomprehensible amount of data on a daily basis. The digital traces we leave behind reflect a world increasingly controlled by data, and the artistic positions presented in this book seek to make those continuous streams of information visible. Through the phenomena of "big data" and "data mining", critical questions are posed about our ambivalence towards living in such a world. With essays by Orit Halpern, Claudia Mareis, Ramón Reichert, and others.
272 p, ills colour, 17 x 24 cm, pb, English
Poetics and Politics of Data, ed. Christoph Merian Verlag, Basel, 2015 (29.- chf)