Note: the post I&IC Workshop #2 with James Auger at HEAD, brief: "Cloudy" presents the objectives and brief for this workshop.
After last week's workshop at HEAD – Genève, we learnt that addressing Cloud Computing from a design perspective requires to take a detour. Instead of looking at data centers and cloud computing directly, we asked students to choose a domain of everyday life (religion, cooking, communication, etc.) and work on how this technology may influence it, the kinds of practices that may emerge and what kind of implications would surface. The projects reflect this diversity and we also push the student to adopt both a critical and speculative angle. Such requirements mean that the output of the workshop largely consists in a set of short scenarios/usage strategies exemplified by sketches and pictures. Each of them provides a subtle perspective on cloud computing by showing that the limits and the opportunities of these technologies are entangled.
Cloudified Scenarios – a workshop with James Auger at HEAD – Genève on Vimeo.
Two posts have been added later as follow-ups to this one that propose an update to the direct results of the workshop:
- http://www.iiclouds.org/20141112/iic-workshop-2-at-head-design-implications/
- http://www.iiclouds.org/20141112/iic-workshop-2-at-head-ui-proposals/
bigMother (Camille Rattoni & Sarah Bourquin)
The project revolves around the idea of a cloud-based sharing and assistive system to help citizens dealing with the everyday duty to cook at home. More specifically, it addresses the activities around cooking logistics such the organization to access qualitative food supplies, or the access to relevant recipes. Citizen cooking and consumption habits are automatically stored in each instance of bigMother. This system was felt as intrusive by the local communities but they understood that their data can be used to optimize the access to qualitative food products and avoid wasting resources. Based on this analysis a set of cloud services enable people to choose recipes based on product availability and health issues (intolerances, family disease, etc.)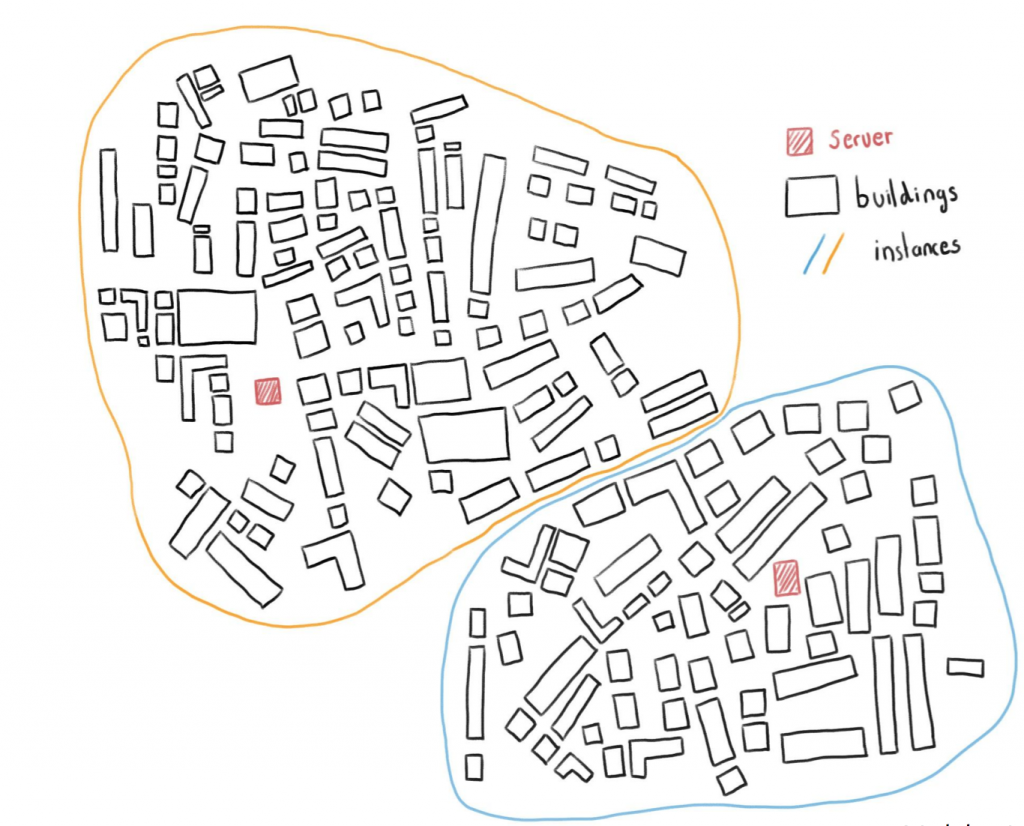 Moreover, bigMother's cloud system is designed to be used at the neighbourhood levels of a city/small town (5'000 to 10'000 inhabitants). In this case, the cloud is not meant to be global platform but it is grounded physically at the local level. This means that big urban areas would have several bigMother "instances", unaccessible from people who do not belong to these communities (in order to limit the potential privacy intrusion/data leaks). At the kitchen level, each appliance (fridge, boiler, oven, bread machine) are also connected to bigMother cloud in order to collect data and synchronize their suggestions.
The project highlights the difficulty in finding a proper balance between health/sustainability issues and data collection/intrusion needed to optimize people's cooking habits. The name of the project also reflects the fact that surveillance can also happen at the local level (within neighborhood communities).
-
CATHEDRAL (Léa Thévenot & Etienne Ndiaye)
Religion is an aspect of everyday life that does not always correspond to the general public's perspective on technology. But, as this project implies, there are interesting connections between the two. CATHEDRAL is a scenario that envision the role of cloud computing technologies in the context of Christian faith. It investigates religion in an era where churches are getting more and more empty and faith is seen as part of the private sphere.

The design proposal consists in a series of glass bells called "unison". They draw inspiration from architectural elements we find in religious buildings.Their symbolic purpose is to bridge the geographical gap between believers and to unite them behind a domestic monument. These bells act as resonators (echoic chambers) for a sound to be amplified, but also as light diffusers. Every bell has a different shape, and thus a different behaviour with sound and light. The unison bell are also characterized by two modes:
A passive mode to support the realtime broadcasting of prayers said around the world by people using this device. For the user, the sound is heard as a form of ambient non-intrusive music.
An active mode in which the user can say his/her prayer and hear the prayers uttered by other believes simultaneously as a background audio track. At the end of the prayer, the bells reproduce in unison all the version of this prayer uploaded to the cloud in a kind of spiritual sonic mass.
-
MOODIANO (Patrick Donaldson, Eunni Sun Lee, Saskia Vellas)
This scenario explores how a musical instrument (a piano) can be connected to the cloud and collect data about its usage. It is based on the assumption that there is a correlation between music playing and emotions, and that it would be possible to map people's emotions based on this kind of information. Each piano is defined by its geolocation as well as a mix of data (notes and chords played, keys, musical genre, pressure, speed/rhythm) and metadata (weather, time of the day, etc.). Based on collecting these information, it is then possible to envision an interface to visualize piano usage. Such representations would correspond to mapping of players' mood.
The group described how third parties – politicians, commercial companies, etc. – may use this information to inform their decision. For instance, public institutions may wonder how the population's mood, represented by these data, can help then wonder if it is the best moment to pass a new law/tax.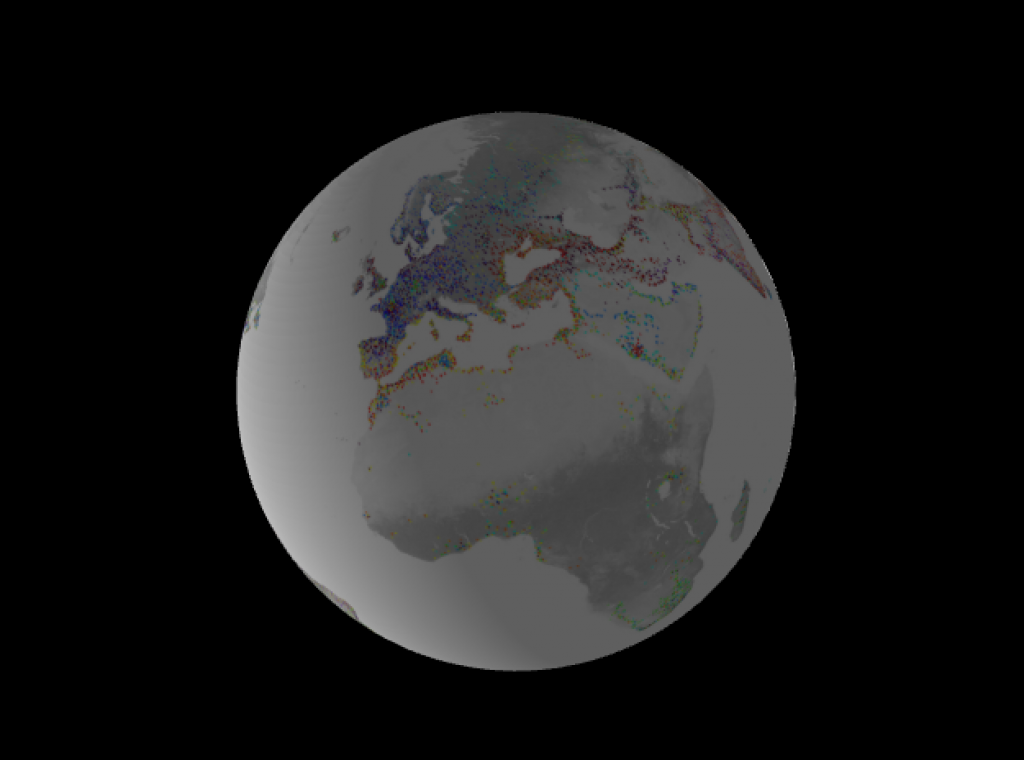 This project revisits the notion of Smart City by showing how collected data can be helpful in a decision-making process. To some extent,one can see it as a revamped version of Cybersyn – a distributed decision support system to aid in the management of the national economy in Chile in the 1970s – based on data-analysis of piano usage. Using this, a musical instrument becomes a tool to understand populations.
-
L'Oracle (Hind Chamas, Alexandra Gavrilova, Vanesa Lorenzo)
Oracles have always played an important role in society. In the Greek Antiquity, they predicted certain events, based on a form of divination or anticipation. This groupe revisited this notion in the context of cloud computing. Their assumption was that data collected on online services, mobile devices and any piece of technology could help generating predictions and/or recommendation in a way that is similar to Oracles. They envisioned an interface located in phone booths that would perform facial and speech recognition on a user, analyse existing data about him/her (social profile, personal data, family connections, religion, contacts, etc.) and provide the person with an answer.
However, in order to go beyond the standard utilitarian perspective of decision-making interfaces based, the group chose to explore how to poetize everyday experiences and promote another form of recommendation based of literature references. The user would go to the booth, ask a question and the answer would be given in the form of a piece of poetry.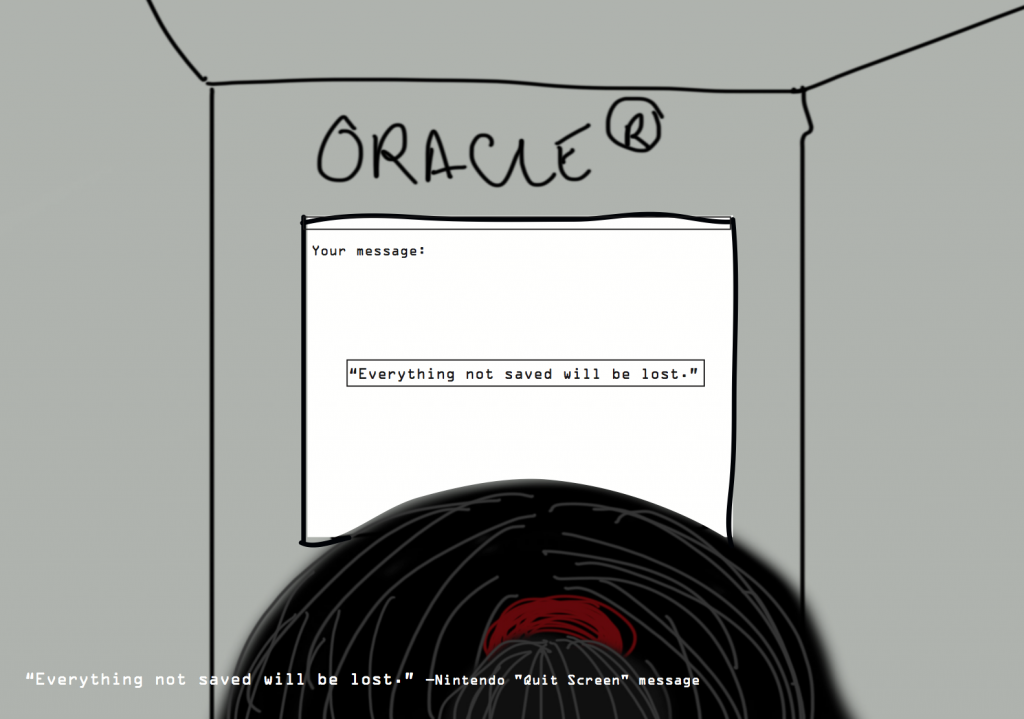 In this case, the cloud computing system corresponds to a public database of personal data with a set of tools to analyze the questions and confront it to contextual information (weather, facial emotions, voice timber, etc.), recognize the language employed by the user and tap into a pool of poetic references in order to find an adequate reference. The intelligence in the system lays in this answer which will be mysterious at first and then evocative for the user… in the same way Oracle's prediction and advices were.
-
WHERE THE WILD THINGS ARE (Mélissa Pisler & Marianna Czwodjdrak)
This project explored the relationships between cloud computing, sensors and animals. It focused on how animals can play a role in environmental monitoring. The group started from the idea that rats may suffer from cardiac remodelling and ventricular arrhythmia that can lead to heart failure, because of CO pollution. This means that rats can act as "canaries in a coal mine" to detect such pollution (an idea already explored by Beatriz da Costa in her Pigeon blog project).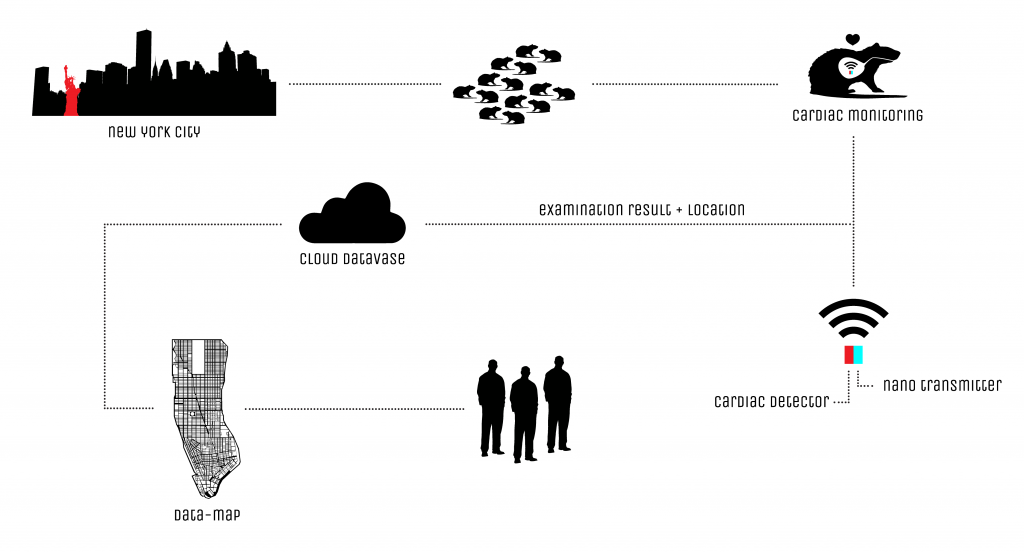 The point here is to have sensors wore (or ingested) by rats in order to map out pollution, and benefit from their pervasive nature in urban environments. The rodents could easily gather information, using mesh network technology which may also provide a way to store such data, and eventually form a distributed cloud system.
-
Smart Personal Cloud (Charles Chalas & Félicien Goguey)
The last project addressed the notion of smart personal cloud and ambient information. It's based on a wearable device that helps user going through his/her work of the day, logging every event in real time. The data recorded is uploaded to the cloud, where an artificial intelligence will analyze it, tag it and sort it, to finally archive it for further use. The AI will then use this data to assume the role of a personal assistant, reminding the user of various tasks and to-dos, providing useful and highly personalized information about who or what you encounter. It will also be there to coach people into being more productive, squeezing up to the last bit of work potential out of every moment.
-
Acknowledgements:
Thanks James Auger for the workshop mentoring; Charles Chalas for his help preparing the workshop week and his participation with Félicien Goguey (MD2); Patrick Keller, Christophe Guignard and Lucien Langton for the participation to the final crit. Thanks the Media Design students (MD1) from HEAD – Genève for the enthusiasm, their involvement and their projects: Camille Rattoni, Sarah Bourquin, Léa Thévenot, Etienne Ndiaye, Patrick Donaldson, Eunni Sun Lee, Saskia Vellas, Hind Chamas, Alexandra Gavrilova, Vanesa Lorenzo, Mélissa Pisler, Marianna Czwodjdrak.