More than a year after our last publication on this blog and the end of the scientific part of the design research Inhabiting and Interfacing the Cloud(s), we're very happy to signal the publication of two books in Print on Demand (Lulu) and their accompanying free PDFs.
One book concerns the ethnographic the ethnographic research: Cloud of Practices, while the other is dedicated to the design research and its results and uses many of the resources published on this blog along the process: Cloud of Cards.
A website gives access to the results of the research in the form of a kit: www.cloudofcards.org
-
Cloud of Practices:
Download the free PDF on the Cloud of Cards website (under "Publications" link), or buy the paperback version on Lulu.
Graphic design by Eurostandard; Photography of the final artifacts by Daniela & Tonatiuh.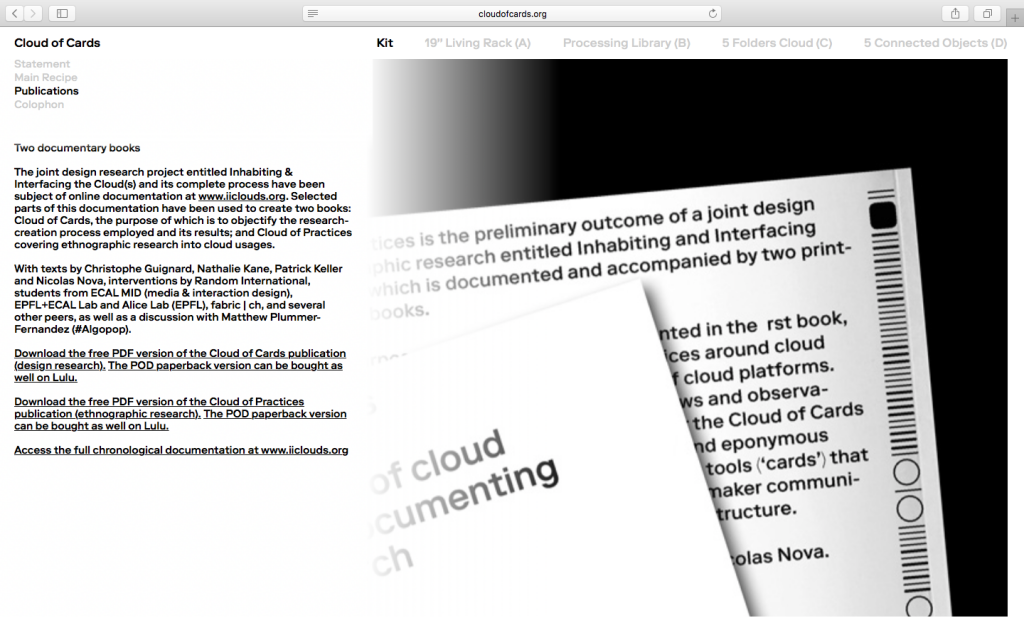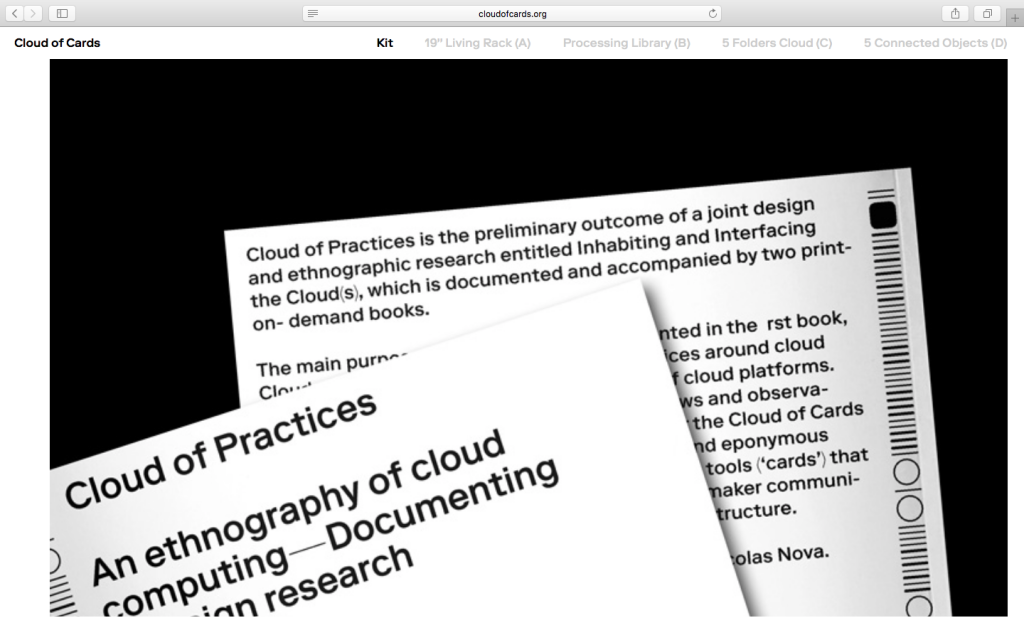 About Cloud of Practices (ed. Nicolas Nova):
Cloud of Practices is the preliminary outcome of a joint design and ethnographic research entitled Inhabiting and Interfacing the Cloud(s), which is documented and accompanied by two print-on-demand books. The main purpose of the field research presented in this first volume, Cloud of Practices, is to document the practices around cloud computing, as well as the user experience of cloud platforms. A combination of online research and interviews and observations with users has provided the insights for the Cloud of Cards design project which is the subject of the second eponymous book. The project is a set of digital and physical tools ('cards') that aims to give the designer, and particularly the maker community, the possibility to set up their own cloud infrastructure.
---

This work is licensed under a Creative Commons Attribution-NonCommercial-ShareAlike 4.0 International License.